General Grants
The Foundation considers grant applications once/year. After reviewing our grantmaking guidelines, grant applications can be completed online and are due annually at the end of December. Decisions will be announced by the end of February.
For technical assistance with the online grant application, call (616) 454-1751 or email grantcentral@grfoundation.org.
Youth Grants
Nonprofits that benefit youth may also consider applying for a grant from ICCF's Youth Advisory Committee after reviewing the grant guidelines. The deadline for the Youth Advisory Committee grant submission is in early February each year, and decisions are announced in May.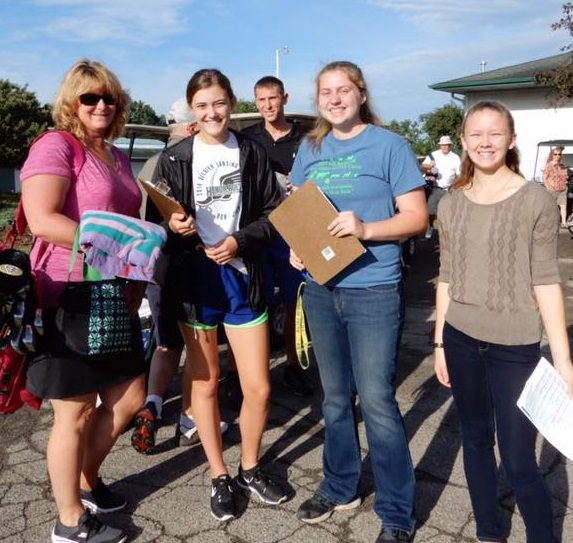 Youth Advisory Council
The Ionia County Youth Advisory Council is represented by high school students from Ionia, Belding, Portland, Lakewood, Saranac, and Lowell High Schools. These motivated students meet on a once-per-month basis to plan, develop, and implement service-learning projects. Students also go through professional development trainings that help them further develop their own projects. Students go though leadership, goal-setting, public speaking, team-work, and cultural trainings that help them learn how to be effective at advocating for a positive change in their community.
To learn more, visit YAC on Facebook.
When viewed from a mobile phone, table renders best in the landscape position.
| Support | Amount | Details |
| --- | --- | --- |
| Ronald Township Fire Department | 1500 | Indian Pump SB500 water backpack |
| Soup Project | 1000 | The Soup Project |
| Sparrow Foundation | 2853 | Sparrow Rehabilitation Center Ionia Therapy Kitchen |
| Soaring Above Ionia | 1000 | Youth mentoring program |
| Relief After Violent Encounter Ionia/Montcalm, Inc. | 2500 | Children's Play Area |
| Portland Public Schools | 2000 | FRC Robotics |
| Portland Community Fund Association | 1000 | Portland Backpacks for Bellies |
| Portland Civic Players Inc. | 500 | Marquee Replacement Project |
| Junior Achievement of Michigan Great Lakes | 500 | Building Ionia Youth for Future Success |
| Ionia Public Schools | 2000 | Industry Recognized ABB Robotics Certification |
| IM Secure and Friendly Environment Child Advocacy Center | 3000 | Prevention Education in Ionia |
| Ionia Free Fair Association | 2500 | Floral Building Restoration - Roof |
| Ionia County Intermediate School District | 3500 | Dolly Parton Imagination Library |
| Ionia County Intermediate School District | 3500 | IM Kids 3rd Meal |
| Ionia County Intermediate School District | 2000 | Boccia Ramp |
| Ionia Community Library | 1149 | ICL Microfilm Machine Reader Project (for PC and software) |
| Habitat for Humanity of Ionia County | 4000 | Lake Odessa Habitat New Home Build |
| Ionia County Great Start Collaborative | 2000 | Ionia County Transition to Kindergarten |
| Feeding America West Michigan | 3000 | Mobile Food Pantries - Ionia County |
| ENRICH of Ionia County | 1000 | Ready for a job! |
| City of Belding | 2189 | Fire Department High Hazard Equipment/Lighting |
| Belding Area Schools | 894 | BHS Theatre Tech Upgrades |
| Support | Amount | Details |
| --- | --- | --- |
| Alvah N Belding Memorial Library | $2,000 | To support the Library Life Boxes project |
| Belding Area Schools | $715 | For High School physical education technology |
| Belding Area Schools | $989 | For High School Performing Arts Center mobile technology |
| City of Belding Fire Department | $2,500 | To purchase a thermal imaging camera |
| Enrich of Ionia County | $1,000 | For work experience programming |
| Feeding America West Michigan | $3,400 | To support the Mobile Food Pantries in Ionia County |
| Great Start Collaborative | $2,800 | To support the Ionia County Transition to Kindergarten Backpacks project |
| Habitat for Humanity of Ionia County | $750 | To support the ReStore |
| Hope for Sobriety Foundation of Ionia County | $560 | For the purchase of Dial a Ride passes |
| Ionia Community Library | $2,000 | For digital e-books |
| Ionia County ISD | $2,500 | For the Dolly Parton Imagination Library |
| Ionia County ISD | $3,500 | For IM Kids 3rd Meal |
| Ionia Free Fair Association | $500 | To support 4H programming |
| Ionia Public Schools | $500 | To support the Military Wall of Honor project |
| Ionia Public Schools | $1,585 | To support student health and well-being |
| Ionia Public Schools | $1,000 | For flexible seating at Jefferson Elementary |
| Jordan Lake Trail Board | $1,000 | To support the building of a brick path and pavilion on the trail |
| Junior Achievement of the Michigan Great Lakes | $500 | To support the Bright Tomorrows for Ionia County Youth project |
| Michigan Crossroads Council | $500 | For scouting recruitment |
| Portland Community Fund Association | $2,500 | For the Portland Backpacks for Bellies project |
| Saranac Public Library | $500 | To provide homeschool science kits |
| SS Peter and Paul Catholic School | $2,000 | To update the library software system |
| St. Joseph School | $1,000 | For technology upgrades |
| United Way of Montcalm-Ionia Counties | $1,000 | For emergency response needs |
| Support | Amount | Details |
| --- | --- | --- |
| United Way Montcalm-Ionia Counties | 1000 | MRC/Cert Equipment for Emergency Response |
| St. Joseph Catholic School | 1000 | Technology Upgrade |
| SS Peter and Paul Catholic School | 2000 | SSPP Library Upgrade |
| Saranac Public Library | 500 | Homeschool Science |
| Portland Community Fund Association | 2500 | Portland Backpacks for Bellies |
| President Ford Field Service, Michigan Crossroads Council | 500 | Scouting Recruitment Campaign |
| Junior Achievement of Michigan Great Lakes | 500 | Bright Tomorrows for Ionia County Youth |
| Jordan Lake Trail Board | 1000 | Jordan Lake Trail Pavilion |
| Ionia Public Schools | 500 | Ionia Bulldog Military Wall of Honor |
| Ionia Public Schools | 1000 | Jefferson Elementary Flexible Seating Project |
| Ionia Free Fair Association | 500 | 4H Support Project |
| Ionia County Intermediate School District | 3500 | IM Kids 3rd Meal |
| Ionia County Intermediate School District | 2500 | Dolly Parton Imagination Library |
| Ionia Community Library | 2000 | ICL Community Digital Access |
| The Hope for Sobriety Foundation of Ionia Co., Inc. | 560 | Adult Recovery Court Transportation, for the purchase of Dial a Ride passes |
| Habitat for Humanity of Ionia County | 750 | Habitat for Humanity of Ionia County |
| Ionia County Great Start Collaborative | 2800 | Ionia County Transition to Kindergaten Backpacks |
| Feeding America West Michigan | 3400 | Mobile Food Pantries- Ionia County |
| ENRICH of Ionia County | 1000 | Employment is our goal |
| City of Belding | 2500 | Fire Department Thermal Imaging Camera |
| Belding Area Schools | 989.06 | High School Performing Arts Center Equipment Upgrade |
| Alvah N. Belding Memorial Library | 2000 | Library Life Boxes (for the purchase of books) |
| Support | Amount | Details |
| --- | --- | --- |
| United Way Montcalm-Ionia Counties | 2500 | COVID-19 Crisis Fund, Food Trucks for Ionia and Saranac |
| St. Patrick's School | 1500 | High School Science Lab Upgrade |
| Belding Area Schools | 500 | Flexible Seating for Engaged Learning |
| Ionia County Intermediate School District | 2500 | IM Kids 3rd Meal Box Truck |
| Ionia County Great Start Collaborative | 2800 | Ionia County Transition to Kindergarten Backpack Project |
| Ionia Public Schools | 1250 | Emerson Elementary Gaga Ball Playground Equipment |
| Belding Area Schools | 400 | Broadcasting Class at Belding High School |
| Ionia County Health Department | 2000 | Providing Fresh Food to WIC/MIHP Clients |
| Ionia County Intermediate School District | 2500 | Ionia County Dolly Parton Imagination Library |
| Portland Public Schools | 500 | Portland Middle School Robotics Class 2019-20 |
| Ionia County Sheriffs Office | 1551 | Sheriff's Office, Evidence Update |
| Portland Community Fund Association | 2500 | Portland Backpacks for Bellies |
| Lake Odessa Community Library | 800 | Repurposing space into a Quiet Room |
| Belding Area Schools | 0 | Woodview Elementary Video Production |
| Manna's Market | 2500 | Food, clothing bank and baby pantry |
| Feeding America West Michigan | 2500 | Mobile Food Pantries Program |
| Junior Achievement of Michigan Great Lakes | 1800 | Preparing Ionia Students for the Workplace |
| Ionia Public Schools | 500 | Twin Rivers Elementary - Library Books for Kids |
| Lakewood Public Schools | 500 | For the purchase of headphones for student use during testing procedures (Russell Miller) |
| Belding Area Schools | 0 | Sleep in Heavenly Peace |
| Belding Area Schools | 500 | Ellis Elementary STEAM Room |
| Support | Amount | Details |
| --- | --- | --- |
| Ionia County Intermediate School District | 1500 | IM Kids 3rd Meal |
| Portland Area Historical Society | 800 | Portland Area Historical Society Preservation Project |
| Ionia County Intermediate School District | 1279 | Water Bottle Fill Station Project |
| Ionia County Intermediate School District | 3500 | Ionia County Dolly Parton Imagination Library |
| Ionia County Great Start Collaborative | 2800 | Ionia County Transition to Kindergarten Backpack |
| Freedom Acres School | 3126 | Sensory Room |
| Saranac Public Library | 400 | Magnify the Classics |
| Ionia County Sheriffs Office | 5000 | Active Violence Response Task Force (RTF) |
| Feeding America West Michigan | 3000 | Mobile Pantries in Ionia County |
| Manna's Market | 2000 | Food, clothing bank and baby pantry |
| Ionia Public Schools | 1800 | Ionia High School Video Technology Upgrades |
| Ionia County Historical Society | 1000 | Blanchard House Access Improvements |
| Ionia Public Schools | 695 | Emerson Elementary Robotics |
| Hospice of Lansing & Ionia Area Hospice | 1300 | We Honor Veterans |
| Saranac Community Schools | 800 | Breakout EDU Boxes - Sanders |
| | | |
| Support | Amount | Details |
| --- | --- | --- |
| Saranac Community Schools | 197 | Flexible Seating - Exercise Balls |
| City of Ionia | 500 | DDA Mural Project |
| Feeding America West Michigan | 3000 | Mobile Pantries in Ionia County |
| Lakewood Public Schools | 500 | High School Modular Robotics Prototyping Lab |
| Junior Achievement of Michigan Great Lakes | 500 | Bringing the Workplace to Ionia Youth |
| Habitat for Humanity of Ionia County | 1000 | Building a Home in Lake Odessa |
| Ionia Montcalm Families Against Narcotics | 1000 | Addiction Public Forums and Education |
| West Michigan Environmental Action Council | 1050 | Lower Grand River Water Trail Planning |
| Ionia County Intermediate School District | 1000 | Michigan Youth Leadership Training Camp |
| Ionia County Intermediate School District | 2500 | Ionia County Dolly Parton Imagination Library |
| City of Belding | 500 | Gathering Place Mural Walk Path |
| IM Secure and Friendly Environment Child Advocacy Center | 1500 | Sustaining the IM SAFE CAC |
| ENRICH of Ionia County | 328.36 | Furniture Movers |
| Saranac Community Schools | 800 | Blanket Project |
| Ionia County Historical Society | 1000 | Digital Preservation and Access Project |
| Ionia County Intermediate School District | 2500 | IM Kids 3rd Meal |
| Ronald McDonald House of Western Michigan | 1000 | Family Support Program 2018 |
| Ionia County Great Start Collaborative | 2500 | Ionia County Transition to Kindergarten Backpack |
| Ionia Free Fair Association | 1000 | Hand Washing Station |
| Ionia Public Schools | 1000 | Elementary Music Classroom Instruments |
| Portland District Library | 3380 | BiblioBoard Products |
| Ionia County Intermediate School District | 1250 | S2AA Teen Driver Safety Program |
| Belding Area Schools-School Service Fund | 841.14 | Woodview Elementary STEAM Makerspace Club |
| Relief After Violent Encounter Ionia/Montcalm, Inc. | 1250 | Community Outreach and Operating Support Project |
| Lakewood Public Schools | 1700 | Podcasting: Dedicated Computer |
| Saranac Community Schools | 150 | Facts 4 Me |